To Our Clients, Colleagues and Friends,
The savings & loan industry is quickly fading from the financial landscape of America , and nothing is more telling than looking at the fifty largest U.S. banks ranked by deposits,

only six of which are thrifts

!  Here are the ten biggest:
| | |
| --- | --- |
| 1. $77 billion    ING | 6.  $25 billion    Hudson City Savings |
| 2. $45 billion    Charles Schwab | 7.  $15 billion    Peoples United |
| 3. $41 billion    Banco Santander | 8.  $15 billion    OneWest Bank |
| 4. $37 billion    USAA Fed. Savings | 9.  $12 billion    Astoria Federal |
| 5. $28 billion    E-trade Bank | 10. $12 billion    GE Money Bank |
These top ten thrifts combined have $307 billion in deposits, not even one third the $976 billion Bank of America has. And for whatever it's worth, ING and Santander are foreign banks and Schwab, E-Trade and GE are hardly traditional S&L's.
With new rules on compensation almost here, do you fully appreciate what a once-in-a-lifetime opportunity this is?  Someone once said that "the reason mortgage companies exist is to make loan officers wealthy" and we heard someone once refer to "The tyranny of the loan officer."   This is a great opportunity to (1) re-do everything about loan officer compensation, (2)  restructure it so the company can actually make money, and (3) because everyone else is making big changes,  no longer be accused of declaring war on these loan officers.  This is a great opportunity to start all over.
If you look at repurchase risk ratios, (1) they're hard to come by on an industry-wide basis, and (2) you run the risk of survivorship bias.  We regularly collect data on re-purchase losses, but if you look at the data we've collected on, say, loans originated in 2007, there's one missing element. What is it?  The missing element is those companies that originated loans in 2007 but that are no longer in business!  This survivorship bias means our numbers are not all that reflective of the overall universe of loans originated in any one year.
Here's one of those little oddities you pick up reading American Banker at 3:00 am: New York Community Bank (the guys that bought AmTrust) had 3rd quarter earnings that were precisely twice their salaries + benefits. That 2-to-1 ratio is one of the best in the nation, coming in at #10.  Our own Westamerica here in Marin County came in at a 1.5-to-1 ratio. There are probably as many ratios in banking as in baseball, and this one is probably one of the less meaningful.  It's interesting, but meaningful only in that it's derivative of other, more important ratios like ROA and the efficiency ratio.
There have apparently been studies that show that there's no correlation between a bank's efficiency ratio and returns on equity, but we still watch it closely.  We've urged mortgage bankers to track this since we started Garrett, Watts , and we're batting 0-for-8 years. To our knowledge, not one has ever followed our advice.
I gave a lecture at Cal last week, and of the fifty students attending, about 40 were Asian. This gave me the chance to tell them about buying my first house, a tri-plex just north of campus in 1975.  There was reference in the deed to something called N.A.A.S., and I found out that it meant No Asians Above Sacramento.  Sacramento Street was where the train tracks ran through the middle of Berkeley , and Asians weren't allowed to buy homes above this dividing line when my house had been built in the 1920's. it was obviously illegal in 1975, but it was an amazing look back into the past.
I talked to a number of these students after the lecture, and when I commented that they hadn't seem too surprised at such blatant discrimination, one of them said "Yeah, and now we're discriminated against when we apply to law school and medical school because of Affirmative Action." 

This photo is the Cal library, and with everything going digital, you wonder if there will even be libraries in the future.  What's interesting is that underneath this lawn are five massive underground stories of more library. Regular reading rooms and all, but just no windows. 
An interesting question from a client about benchmarking: "Do we really need it if we're already making 103 bps pre-tax?" A good question. The owner of this company understood that she was about as profitable as she was ever going to get, and she wondered why or how benchmarking could help her. The answer is that she might not need it today, but it could come in handy one day when she's no longer doing as well and starts wondering why.  It's by breaking down the operation into various metrics that you find clues as to why things have deteriorated if that should happen.
If you're from Houston and if you're a football fan, you can be very proud.  The starting quarterbacks of Oregon , TCU and Stanford (all among the top ten ranked teams) are all from Houston .
We wrote about Ethiopian Haile Selassie last week, and a client sent us this photo.  Left to right you have Chief Justice Earl Warren, Vice President Hubert Humphrey, Lady Bird Johnson, Haile "The Lion of Judah" Selassie  and Lyndon Johnson.  Johnson has just asked him "So if you're a direct descendent of King David, how come you don't look Jewish?" and Selassie is trying hard to think of a good response. The homely woman behind Johnson was first daughter Lucy Baines Johnson.

At the end of September, Fannie Mae owned $212 billion in non-performing loans. The Yiddish-American Dictionary addresses this in their definition of the word Tsuris: "Troubles, but not just any old troubles. These troubles are BIG troubles. Misery type of troubles."
Despite things getting better at most banks, there were twice as many CAMELS rating downgrades last quarter as there were upgrades.  About 8% saw their CAMELS number improve, and 15% saw it get worse.
From Isaias Hellman, the President of Wells Fargo, in 1920:  "Our ambition is not to be the largest bank in San Francisco , but to be the soundest and the best."  Isn't it remarkable how much Hellman looks like current Wells Fargo President, John Stumpf?

If you use an inflation calculator,  you can plug in any two dates and see what inflation averaged between them.  In the chart below, you can look at the closest year when you were born and see what inflation has averaged in your lifetime.
| | | | | | |
| --- | --- | --- | --- | --- | --- |
| 1950 | 1960 | 1965 | 1970 | 1975 | 1980 |
|     3.8% | 4.1% | 4.4% | 4.5% | 4.2% | 3.5% |
While 3.5% inflation might not seem too scary, it is very insidious over time.  A year at a private college this year is $55,000, and in eighteen years at 3.5% it will cost $102,000.  And that's just the freshman year!  A year at a public college or university is about $25,000 today, and in eighteen years that will be $46,000.  When my daughter was born, our mantra was "Save for Stanford, pray for Cal ."
There's a community college in the Bay Area called Diablo Valley College , or DVC, and with Bank of America's Kim Nichols being the mother of triplets, she said the college mantra in her house is 'DVC… DVC!"
Did you ever read Bill Clinton's autobiography (956 pages), Graham & Dodd's Security Analysis (658 pages), or Thomas Wolfe's Look Homeward, Angel (626 pages)?  Add them up (2,240 pages) and they're only 13% as long as the U.S. tax code.
Take the three books above and add Huck Finn, (303 pages), De Tocqueville's Democracy in America (929 pages), Lord of the Flies (239),Of Mice and Men (186), 1984 (309), Mario Puzo's The Godfather  (446), The Fountainhead (922), The 1958 Boy Scouts Handbook  (568) Chuck's Berry's Autobiography (336), Nancy Drew and the Secret of the Old Clock (180), Brave New World (205), How to Find Steelhead and Make Them Strike (214), and Jim Bouton's Ball Four (436) -  add them all up and you get 7,204 pages. 
Now add The Gulag Archipelago (660), Elmer Gantry (427) and Liar's Poker (249) and you have 8,501 pages, exactly half the 17,000 pages of the U.S. Tax Code.
Each of these books has some redeeming value.  The tax code?  What a disgrace.  I say we eliminate every single tax deduction or credit, even the most sacred ones, and have a one page tax code that has a flat tax and a one page tax return. 
A really enjoyable movie just released is Love and Other Drugs.  Anne Hathaway was pretty much naked a few times, and this would be a perfect example of gratuitous nudity, meaning that it was completely unnecessary. Nice, of course, but unnecessary. It's almost as if they finished the movie, tested it on audiences, and decided "People really like it, but we need something to really put it over the top, so let's go back and shoot a few nude scenes and cut them into the movie."  It's a bit of a take-off on Sweet November, very sweet and a bit touching at points, and it moves at a very quick pace.  And great laughs. Definitely thumbs up.  

I just started re-reading Friedrich Hayek's The Road to Serfdom, a book I first read in 1983 when I attended a week long "summer camp" sponsored by the Cato Institute.  George Orwell and Joseph Schumpeter loved the book, and surprisingly John Maynard Keyes had this to say about it: "It is a grand book… morally and philosophically, I find myself in agreement with virtually the whole of it, and not only agreement with it, but in a deeply moved agreement."   If you assume that Karl Marx was the worst economist and social theorist of all time (and how could you possibly assume otherwise?) then Hayek must have been the world's best.   In a way, it answers the centuries old debate between Plato and Aristotle, and it should be required reading for college students.
Here's Dr. Hayek, who won the 1974 Nobel Prize in Economics.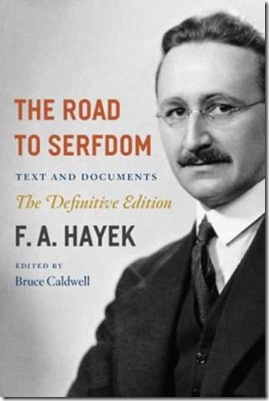 And here's actress Salma Hayek.  She's not related at all, but so what?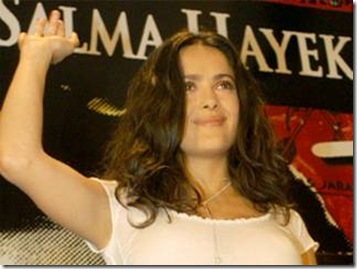 The Road to Serfdom is only 239 pages. But they're among the most important 239 pages ever written about how economic choices have a huge impact on the sort of society we have.  He and Keynes were 100% the opposite on the role of government in the economy, so it says volumes that Keynes was so laudatory of Hayek's book.
                                                                      *    *
For Christmas presents for friends and family, how about getting each of them a copy of Hayek's The Road to Serfdom?  Much better than a tie, perfume, or a much-feared fruit cake.
Helping lenders increase revenues, control costs, and better manage risk.
Mike McAuley   (281-250-2536)
Joe Garrett      (510-469-8633)
Corky Watts      (408-395-5504)