To Our Clients, Colleagues and Friends,
Our Client appreciation Dinner was a great success, and we had clients who came  from New Jersey, Minnesota, Oregon, Wisconsin, Illinois, Arizona, Florida, Maryland, Texas, New York, and, of course, all parts of California.  The roundtable ("What the heck is going on?") started at 4:30, drinks were at 6:00 and dinner at 7:00, and when Mike and I left at midnight, there were still 10-12 of you hanging out at the bar.  A special thanks to Pacific Premier Bank's warehouse lending group for sponsoring the wine and drinks.  And thanks to Pacific Union for providing the hostess. She seemed quite interested in the roundtable discussion.
Here were the top residential servicers in 1995
| | |
| --- | --- |
| 1.   $127 billion | Countrywide |
| 2.   $113 billion | GE Capital |
| 3.   $100 billion | Fleet Mortgage |
| 4.   $100 billion | Norwest Mortgage |
| 4.   $ 80 billion | Prudential |
| 5.   $ 77 billion | NationsBank |
| 6.   $ 74 billion | Chase Manhattan Bank |
| 7.   $ 62 billion | Bank of America |
| 8.   $58 billion | GMAC |
| 9.  $ 52 billion | Chemical Bank |
| 10. $ 49 billion | Home Savings |
A few others were Great Western Bank ($43 billion), Citicorp ($40 billion), and Wells Fargo ($24 billion). The consolidation has been nothing short of amazing.
Did you notice that Comerica has voted to double its dividend and to buy back 12% of its stock? It's still a bit surprising that Comerica hasn't bought any banks to build out their Texas footprint, but share buybacks are often the best use of excess capital.  Being big isn't always better, and sometimes the best deals are the ones you don't do.  (Full disclosure:  I own Comerica stock.)
We admire a lot about Comerica's warehouse lending program, and one of the remarkable things is how long they've been at it without once exiting it.  At our recent client dinner, Comerica's Art Shafer mentioned that part of their write-up has a line "Comerica client since____" to be filled in, and he recalled one recent warehouse renewal that noted that the company had been a Comerica warehouse borrower since 1965!!!
When I was a college sophomore, Alexander Kerensky came to speak on campus. He was largely forgotten by history, but he had been the Prime Minister of Russia after the fall of the Czar but before Lenin took over. His Government lasted only eight months, until the Bolshevik forces defeated his army, and he spent the next 50 years in exile as a scholar at the Hoover Institute at Stanford.  Here's Kerensky in his 80's when he spoke at Cal . He was infirm and he had a thick accent, so no one understood a word he said, but it was still cool.  If you've had an interesting brush with history ("I once saw Sheila Bair at a Starbucks…") let us know and we'll run it.

Most people forget that FHA is really just an insurance company, and most people don't know how thinly capitalized it is. The capital ratio of the insurance fund dropped to 0.50%, or 50 bps.  If it were a privately owned insurance company, its bonds would trade as junk and state insurance commissioners would be threatening to shut it down.
Mike McMahon of Redwood Trust spoke at our client dinner about Redwood's securitization of jumbo mortgages and how they're currently buying mortgages for their next securitization. Keep an eye on them.  (http://www.redwoodtrust.com)
I did some basic math to better understand Willie Mays as a fielder, going on the theory that the best way to measure a fielder is by his total number of put outs  and not by his fielding average.  By this standard, Willie Mays was the all time best with an average of 428 putouts over a 162 game season. By contrast, Ty Cobb averaged only 356.  That difference of 72 put outs that Willie had over Cobb could, potentially, mean an extra 72 hits that fell in, 72 hits that Cobb simply never got to and that Willie would have reached. In fact, a superior fielder may actually makemore errors, getting to balls and possibly bobbling them, that an inferior fielder would never get to.  Dave Lopes finished out his career as the A's second baseman, and his league leading fielding percentage was totally deceptive.  Those of us who went to the games saw that his uniform was never dirty!  You can't make errors if you never get close enough to the ball to dive for it.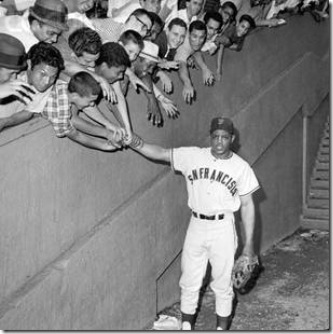 Uh oh.  HUD is studying captive warehouse lines as a possible RESPA violation.  If an investor underwrites the loan, funds the loan as a warehouse lender, and then buys the loan, HUD thinks it might be an illegal table funding.  Uh oh.
Craig Cole also made some interesting comments at our dinner.  Craig runs the residential mortgage operations at Union Bank, and this isn't your father's Union Bank, not by a long shot. Once a business bank and source of financing for developers, Union is now a major residential lender. Way to go, Craig.
A mortgage company owner showed me this e-mail from a realtor: "I have a buyer who just violated his parole and was put back in prison for a couple of months.  When he gets out, he wants to buy a home. Will his situation keep him from getting a loan?"
As I recall from 9th grade Civics, the opening line of Plato's The Republic is "What is Justice?"  The mortgage crisis has caused people to question concepts like fairness and justice, but words like responsibility intersect with words like compassion. Schopenhauer wrote that the basis of all morality is compassion, but we still think justice means doing the right thing, and we find it hard to accept the idea of walking away from one's mortgage simply because the equity is gone.  If someone believes it's okay to stiff the lender when his home goes down in value, then intellectual honesty requires that when he buys a new home and it goes up in value, he should be willing to give the lender his profits.  You can't have it both ways.
Twain didn't want his autobiography published till he'd been dead 100 years, and having died in 1910, it was just released.  His papers had been given to UC Berkeley, and Mark Twain scholars have been spending decades getting his papers in order and working to get his autobiography ready for its 2010 release. There's a lot of excitement around here about this book.
With Flagstar's latest capital raise and agreement to sell off non-performing loans, we think their problems are behind them. This is the start of a new day for the New Flagstar.  There are some really good people there, and without legacy issues dragging them down, we think this bank is ready to soar.
The FDIC put out its Quarterly Bank Profile, and it's filled with good news. You can't have a healthy economy without healthy banks, and bank earnings improved for the fifth quarter in a row!  The entire report is attached.
When the Clinton budgets were generating huge surpluses, we were on target to pay off the entire national debt by 2009, but look where we are now!  Our goal now should be not just to reduce the deficit but to pay off at least half of the nation's debt.  Here are ten ideas.  There are reasons to oppose each one of them, but we've go to do something, and everyone should share in the sacrifice to preserve the greatness of our nation for the next generation.  As Ronald Reagan said, "There may not be easy answers, but there are simple ones." These ten are simple.  Not easy, but certainly simple.
1. End the War on Drugs.  If states want to do it, let them pay for it.  (

Save $15 billion a year

).
2. Stop nation-building. Get all troops out of Iraq and Afghanistan by 2012.  (Save $125 billion).

3. Stop fighting the Cold War and withdraw our forward-deployment troops from the 93 countries around the world where they're stationed. Why do we need 71,000 troops in Germany and 47,000 in Japan ? (Save $90 billion a year).
4. Kill the federal Department of Education. There is no such thing as a national elementary school, middle school or high school, but this department has spent $1.8 trillion since being started in 1965. (Save $40 billion a year).
5. Kill all farm subsidies, 70% of which goes to the biggest 10% of agribusinesses.
If the cost of a loaf of bread goes up a dime, consumers will adjust and make their own decisions.  (Save $25 billion a year).
6.  Give every federal employee a 15% pay cut.  They have greater job security and
higher wages than their private sector counterparts, and this will start to get
things back in balance.  (Save $30 billion a year). And while we're at it, let's give Congressmen a 50% pay cut till the budget is balanced.
7. Eliminate the mortgage interest deduction and only phase it back in once the national debt is reduced by 50%. (Save $130 billion a year).
8. Remove the $106,800 cap on wages that get taxed for FICA until the budget is in surplus and then reinstate the cap over five years. (added revenue of $95
billion a year).
9. End federal energy subsidies. If there is demand for alternative, green energy,
private capital will develop it to earn a profit.  The marketplace is much more
effective at choosing winners than governmental agencies. (Save $20 billion a
year).
10. End 90% of all housing subsidies, with subsidies only for the blind, infirm and   
severely disabled.  (Save $40 billion a year).
These changes total $640 billion a year, and each of them will have huge forces opposing them.  To overcome this opposition, the President should sit down with leaders from both parties and agree to put it to a vote as a package:  All or nothing, yes or no, up or down. You're either for balancing the budget or you're against it. It worked with the vote on base closings, and it could work here.
                                                              *   *
Helping lenders increase revenues, control costs, and better manage risk.
Mike McAuley   (281-250-2536)
Joe Garrett      (510-469-8633)
Corky Watts     (408-395-5504)