To Our Clients, Colleagues and Friends,
Does Jamie Dimon hear John Stumpf's footsteps sneaking up on him? A couple of days ago JP Morgan's market cap was $161 billion and Wells Fargo's was $159 billion.  Getting close. Remember when Wells was just a Northern California Bank?

Taking on Jamie Dimon and Chase could be risky.  When Dimon was fired by Sandy Weil, but before Bank One, he went to the gym every day and trained as a boxer. For real.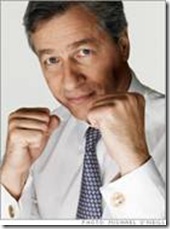 I just read This Time is Different:  Eight Centuries of Financial Folly and despite the whimsical title, it's not a particularly easy reading.  It's very empirical, with a dizzying amount of data and charts.  It covers eight centuries of financial crises, excessive leverage, governmental defaults, banking panics, and ruinous inflations.  It's financial history at its scariest. Kind of a Nightmare on Elm Street of fiscal and monetary mismanagement, and a book our policy makers should all read.   Jamie Korus gave me the book and the book gave me nightmares.
When annual reports come out next year, let's look at the banks involved in mortgage banking. It will be interesting what their footnotes say about repurchase risk.
And for all you non-public mortgage bankers, don't forget that the footnotes to your financial statements are yours.  They're yours, not your auditors, and you decide what to put in them.  We think every mortgage banker should footnote his repurchase experience and the status of any pending repurchases.   In fact, we think audit firms should refuse to issue an opinion on financials lacking full disclosure on repurchases.
We'd also like to see warehouse lenders send the following memo to all their mortgage banking borrowers:  "Please have your audited financials contain a detailed footnote discussing your past repurchase experience as well as pending repurchases and ongoing indemnifications.  We will not renew WH lines if this is not included."
China's clout was evident last week when the Nobel Peace Prize was being given to Chinese dissident Liu Xiaobo, with nineteen countries boycotting the ceremony.  Sri Lanka said, "We are a small country and China is our friend."  Baloney.  When the world's biggest creditor country and your biggest trading partner tells you to do something, you do what they say.   One of these days we'll be in an argument with China over North Korea or Taiwan , and rather than sending out their warships, they'll simply tell our ambassador, "Okay, have your way, but you can expect us to not show up at your next auctions and to dump $100 billion in your Treasuries. And then you can explain to your people that their interest rates have gone up because you're being obstinate on a foreign policy dispute they don't even care about."

This is Nobel Peace Prize winner Liu Xiaobo, currently serving an 11-year sentence for daring to suggest the end of one-party rule in China .
One of our favorite clients is Mountain West, and they're looking for someone to head up Compliance and Risk Management. If you have to ask what the qualifications are, you're probably not the right person. Mountain West is in Ontario . The one in California , not Canada .  You can e-mail Gary Douglas there at

[email protected]

.
Looking for a good yield? Look no further than U.S. Bank's Series G Preferred which is yielding 6.4%.  I just bought some. Bank preferreds and trust preferreds got a sort of bad reputation when operators would pool 15-20 of them, usually from small community banks, and then leverage them. 
With all the talk about loan officer compensation, have you ever wondered about stock broker comp?  They're called financial advisors now, and if you look at Merrill Lynch, they have 15,300 financial advisors with average annualized production of $841,000.  Not bad for an average, and besides, who wants to be average?
Did you enjoy the movie The Hangover? They're working on The Hangover II, and not only will Mike Tyson be in it again, but it will also have a scene or two with Bill Clinton. 
Speaking of Mike Tyson, remember when he was the self-described "baddest man on the planet"?  Even when he was a real thug, you could tell he was highly intelligent. If you watched his hour-long Larry King interview last week, you saw him as funny, self-effacing, very aware of his weaknesses, and very thoughtful. If he'd been raised by a good family instead of on the streets of Brooklyn , you can imagine him growing up to be an English teacher, a diplomat, possibly a Priest, certainly a youth counselor.  Don't laugh unless you watch the interview. 

Two stories that didn't make it into Eighteen Letters:   (1) I had to babysit when my daughter was six or seven, and because it was the day I was teaching my class at Cal, I loaded up some crayons and kids books and found her a seat in the back of the room. During the break, she asked me "You kept talking about something called de novo banks.  What's that mean?"  When I told her it meant a new bank, she asked "So why don't you just say new?" (2) When the class was over, I asked what she thought.  Her answer was simply "Well, I guess if you like really boring stuff, it'd probably be pretty interesting."
A few years ago I suggested privatizing the U.S. Postal service, and Mary Oram        sent a very wall articulated argument against it.  Unfortunately, the USPS continues to lose massive amounts of money, and despite being chartered to show a profit without government subsidies, it has now lost money in 14 of the past 16 quarters. It lost $8.5 billion last year and has $12 billion in debt.  The USPS has $67 billion in revenue which should be attractive to a private operator, and a starting point might be shuttering many of the 32,000 post offices.
If you think selling off the postal service is an absurd idea, go no further than Germany . Their postal service is fully privatized and trades on the stock exchange.  Look at how profitable it is.
FedEx and UPS are obvious buyers of our postal service, but maybe the German postal company would be interested.  Think that's absurd?  The Chicago Skyway was sold a few years ago for $1.8 billion dollars to an Australian company, and want to bet that it's much better run by this private company than by a city government?
It's 1998, and you got the prospectus for IPOs for Goldman, Sachs and fixed-income money manager Blackrock, both of which went public that year.  If you bought stock in storied Goldman, Sachs, you'd be up 200% today. If you bought Blackrock, you'd be up 1,100%.
Although it's a sure bet that Israel has already planned its air attack on Iran's nuclear facilities, the best news was the successful Stuxnet attack that Iran acknowledged had infiltrated the computers at their nuclear centrifuges and delayed or even destroyed part of the facility.  Perhaps the U.S. and Israel can effectively put pressure on the Iranian regime with escalating cyber-warfare attacks.  Cyber attacks could cause military planes to crash, trains to derail, oil wells to leak, gas wells to vent, power grids to shut down and all financial data to be wiped out. Do that for a few weeks and discreetly send a message to Ahmadinejad that it will only get worse unless he abandons his nuclear weapons program.
Too much liquidity? Having a hard time finding good loans?  A few years ago we designed a mortgage program for a mid-west bank, and we'll suggest it for all of you:
    1.  An ARM that's fixed for three or five years at 5.5 – 5.75%
    2.  Single family detached only, no condos, 2-4s or 2nd homes
    3.  Purchases only, no refinances of any sort
    4.  Max LTV of 65%
    5.  Self-employed only
    6.  Minimum FICO score of 750
    7.  Must be in footprint of your branch network
We originally designed it as a stated-income loan, and then we thought about how stated income loans only force borrowers to lie, so we changed it to a no-income loan.  Kind of a "don't ask, don't tell" loan. Ask me no secrets and I'll tell you no lies, and bank examiners hate liar loans. Also, you can do it for conforming or jumbo, your choice since you'll be holding it in your portfolio. I wouldn't suggest it for a CAMELS-3 or worse, but it could be a very good addition to your loan portfolio.
Instead of ratios, have the loan officer do a credit write-up, even if only a page, explaining who the borrower is and why he thinks the loan will be repaid. "The borrower is just starting his surgical practice, and his earnings can be expected to climb over the next several years.  The average heart surgeon in our MSA earns $450,000 a year and…"
Have your Board look at it carefully.  And obviously don't go hog wild on this, but if you're, say, a $500 million community bank with a 75% loans-to-deposit ratio, why not put $25 million of it on the books?
Here are the prices of a few selected commodities, this past week versus a year ago.  Notice any pattern?

| | | | |
| --- | --- | --- | --- |
| Palladium | 768 | 384 | 100% |
| Cotton | 1.28 | 0.69 | +86 |
| Soybean oil, crude | 0.4983 | 0.3776 | +32% |
| Flour, hard winter KC | 18.75 | 14.05 | +33% |
| Beef, carcass choice | 152.51 | 124.42 | +23% |
| Corn, no. 2 yellow | 5.48 | 3.43 | +59% |
| Hominy feed | 155 | 93 | +67% |
| Barley, top quality | 4.90 | 3.35 | +46% |
| Tin | 1,542 | 935 | +65% |
| Sugar, cane raw | 34.54 | 22.76 | +57% |
| Silver | 29.20 | 18.72 | +56% |
| Gasoline | 2.55 | 2.03 | +26% |
| Cotton | 1.28 | 0.69 | +86% |
| Cheddar cheese | 150.75 | 171.75 | -12% |
| Burlap | 0.59 | 0.63 | -6% |
| Natural gas | 4.27 | 4.52 | -6% |
The Florida DFI is wondering what's going on with mortgage brokers there.  The Sunshine State has 43,000 mortgage brokers, and they all need to get their new license by December 31. Strangely, only 10,000 have done so.  With only three weeks left, does this mean that 33,000 brokers are going to leave the industry?  Are there really that many openings for used car salesmen?   
*  *
We think extravagant Christmas parties are a poor use of money and also send a bad message about the corporate culture. We remember one mortgage company that spent $50,000 on their party one year, and while everyone enjoyed it, we heard griping ("I wish they'd pay more of our health insurance instead of having this huge party….").  Instead, what if company owners took five minutes to sit down with every employee, one on one, and told each one how much they appreciated their hard work during the year?  Showing appreciation goes a long way.                                                      
Helping lenders increase revenues, control costs, and better manage risk.
Mike McAuley   (281-250-2536)
Joe Garrett      (510-469-8633)
Corky Watts     (408-395-5504)